Post-COVID19, sovereign debt crises could wreak havoc on SDGs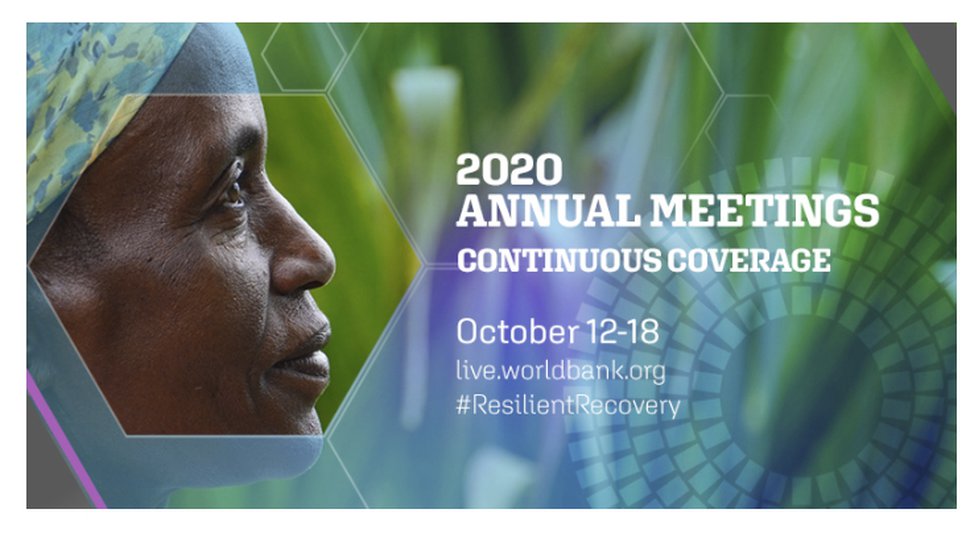 Next week the World Bank and International Monetary Fund (IMF) annual meetings take place - a string of high-level meetings during which problems and solutions are discussed and potentially decided. One of the hot topics is inevitably going to be debt.
A global debt crisis is drawing alarmingly close, and the COVID19 pandemic has worsened matters. Sovereign debt is rising to levels that we have not seen in 50 years. In fact, 52 countries are already experiencing a debt crisis. In 2018, the number was 31. Consequently, recent developments may derail the achievements of the SDGs as many countries are having to spend an unsustainable part of their fiscal budgets on debt payments.

Life before debt
More than 60 countries are currently paying more in debt servicing than they are for their health services - in a time of a health crisis this is extremely worrying. Solving the existing and emerging debt crises is a life-and-death issue, as disruptions in health services are projected to lead to an increase in child mortality. African finance ministers have called for debt restructuring and a longer-term plan as a response to the economic crisis. The international community share their worry and, in response, the G20 and Paris Club members proposed the Debt Service Suspension Initiative (DSSI) for the remainder of 2020. The moratorium on debt payments was offered to 73 developing countries, but only about half have made use of it. This of course raises the question of why this is when it is clear that the current crisis is putting huge pressure on national budgets.
Why current initiatives are not enough
One of the reasons is that the amounts suspended are too small to match the cost of a given country losing its credit rating. Though the IMF, World Bank, Paris Club and G20 have urged commercial creditors to offer debt service suspension initiatives similar to those of the G20 and Paris Club members, they still have not done so. Private creditors need to be on board the DSSI because there is a risk that the debt relief provided to highly-indebted developing countries would simply mean money going to pay off private creditors instead of financing vital investments in health and other crucial social services. While the IMF and World Bank are supportive of the DSSI, they are not part of the initiative. Therefore, debt payments to these multilateral organizations are not suspended either. Though debt service suspension and extension may indeed give developing countries some breathing space it is clearly not enough. The current situation is unsustainable, and it is clear that we will be seeing defaults in the near future - either in a chaotic or orderly manner.
This was underlined by Ghana's Minister of Finance and Economic Planning Ken Ofori-Atta, during a high-level virtual hearing on September 3 during which the role and responsibility of the Nordic countries in dealing with the debt crisis was discussed. Here he said: "There is an unconscious bias in the way in which the global financial architecture is structured that needs a relook." The power to change this lies with the rich countries. Some countries are going to have to lead the way in terms of finding long-term viable solutions if we are to avoid a string of chaotic defaults.
Momentum for institutional reform
In the wake of COVID19 there is both an urgent need, but also a momentum, for institutional reform of the global debt architecture, as underlined by Managing Director of the International Monetary Fund, Kristalina Georgieva. This requires close cooperation of EU and non-EU countries, multilateral and private actors, including the IMF, World Bank and UN, and strong involvement of developing countries and countries affected by the economic crises, to create strong institutions that can ensure transparency and accountability on debt and loans globally and nationally.
A Greener, Smarter, more Equitable Economy for All
At the September UN high-level event on Financing for Development in the Era of COVID19 and Beyond, World Bank President David Malpass stated that current debt relief is too shallow to allow light at the end of the debt tunnel. Georgieva called for a greener, smarter, more equitable economy for all post COVID19. The establishment of multilateral systems for effective and equitable resolution of sovereign debt crises and for the prevention of unsustainable sovereign debts is the way to get there. The Nordic governments should take the lead.
As Nordic CSOs we therefore urge the Nordic countries to take the following steps:
Be progressive and propositional in international negotiations where an extension of the G20 Debt Service Suspension Initiative (DSSI) can be agreed, and push for a transformation of the moratorium into a future commitment to cancel debt;
Demand private sector creditors match the terms of debt suspension offered by the DSSI under a binding and compulsory scheme;
Push for funding from donor countries of future multilateral debt relief not to be taken from existing ODA budgets;
Work towards a global consensus on principles for responsible sovereign lending and borrowing that can mitigate the risk of accumulation of unsustainable sovereign debt levels. Debt sustainability assessments should take as their point of departure an acknowledgement that sustainable debt levels entail that countries have the means to finance the SDGs as well as guarantee human rights;
Support countries to increase transparency and accountability through parliamentary oversight and approval of new loans and civil society accountability building on public registers of bilateral, multilateral and commercial debt;
Lead an initiative to establish a multilateral mechanism or forum for renegotiating and restructuring all types of unsustainable sovereign debts on a case-by-case basis under the auspices of the UN. The framework should bring all types of creditors to the same negotiating table, enabling developing countries to reinstate debt sustainability and allowing countries to invest in vital public services and to meet the SDGs.
Hannah Brejnholt, Senior Policy Adviser, Development Finance, Oxfam IBIS, Denmark
Thea Sofie Rusten Grastveit, Policy Adviser, Debt Justice Norway
Penny Davies, Senior Adviser, Development Finance, Diakonia, Sweden
Lars Koch, Policy Director, ActionAid Denmark
Kjetil Abildsnes, Senior Adviser Economic Justice, Norwegian Church Aid
Irene Dotterud-Flaa, Senior Advocacy Adviser, Save the Children Norway
Eva Ekelund, Policy Director, ACT Church of Sweden