Interview: Catherine Kyobutungi
Decolonise COVAX: an African critique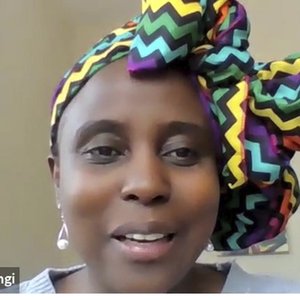 COVAX, the mechanism that was supposed to provide global vaccine equity, has so far delivered just 25 million doses of COVID19 vaccine to Africa, compared to 3.3 billion doses administered worldwide. "COVAX sounded good at first. Then I saw that they intended to vaccinate only 20 per cent of the population. How on earth did anyone think that was a good idea?" says Catherine Kyobutungi, Director of the Nairobi-based African Population and Health Research Center, in an interview with Development Today.
Managed by the vaccine alliance Gavi, along with the World Health Organisation (WHO) and the Coalition for Epidemic Preparedness Innovations (CEPI), the COVAX Facility was launched in June 2020 at Gavi's third replenishment meeting. It is a mainly aid-financed mechanism whose original target was to ensure that 92 low and middle-income (LMIC) countries would have access to enough COVID19 vaccine to cover 20 per cent of their populations. Gavi says it now has the resources to supply some 1.5 billion doses to LMICs (including shared vaccines) by the end of the year, equivalent to a 23 per cent vaccine coverage.
"A small group of 'experts' sat down and defined the problem and defined the solution for a continent of 1.3 billion people. They packaged it in an attractive way, marketed it, and drove the narrative. Until the rubber hits the road, and you run into head winds, and you see that this solution is not working. Africa is getting 1 per cent of the global total. So, you have to ask yourself, who thought this up? What was on their minds?"
COVAX reflects a "paternalistic, donor-driven" approach that is failing Africa, Kyobutungi says. "COVAX is unravelling," and there is a need to go back and fundamentally re-think the approach.
Independent news on donor politics. Subscribe to Development Today.
Kyobutungi started out as a practicing physician in her native Uganda but quit clinical practice after a few years, frustrated by the "endless pipeline of people who are sick because the system was not working for them." She moved instead into public health, taking a doctorate in epidemiology, and now heads the African Population and Health Research Center in Nairobi. She says the centre is unique in the field in that it is an independent institution, not affiliated with any Northern organisation. "That allows us to be independent and gives us much more freedom," she says. "Several times we have had to reject money from Northern institutions, even though we were struggling financially … But that was a principle that was there - it is not a partnership unless we are involved in intellectual conceptualisation."
COVAX is far off its delivery schedule, and Africa is in the grips of a fast-moving third wave of infections. "For Africa, the worst is yet to come," said Matshidiso Moeti, WHO Regional Director for Africa, at a briefing last week. Transmission of COVID19 in Africa has increased for the seventh week running and cases are doubling every 18 days. The highly transmissible Delta variant is, moreover, dominant in South Africa and has been identified in 22 countries on the continent. High-income countries have received 63 times more vaccine than low-income countries; Africa has received about 1 per cent of the global total.
According to Gavi's initial plan, most of the doses for the 92 countries were initially to be supplied by the Serum Institute of India. When India restricted vaccine exports in March due to the dramatic surge in domestic transmissions, Gavi was forced to radically reduce its global distribution schedule. For this month, July, COVAX had originally planned to supply 170 million doses to Africa. The target for July has been reduced to 55 million doses - so far, as of July 8, COVAX had supplied 25 million doses to Africa.
Kyobutungi says the designers of COVAX started at the wrong end. "Herd immunity requires about 70 per cent vaccine coverage, so why would you set 20 per cent as your target?" She says the problem from the beginning was that expectations were set too low. "If you had said: in two years' time every country should have achieved herd immunity. Then you would work backwards and see what needs to be done. The strategy would have been very different. When you start from such a low basis of coverage, you end up with these models that are more grounded in the same old 'rich countries helping poor countries' approach, instead of models aimed at dismantling global power structures in order to achieve equity," she says.
Experts now estimate that it will take four years to vaccinate the world.
Kyobutungi acknowledges that when COVAX was being set up no-one knew how long it would take to develop one or more successful vaccine candidates. "If there were 15 candidates, the thinking was that one might be successful. The fact that many candidates came rather quickly onto the market was a bit of a surprise," she says. Kyobutungi says that even with many successful candidates it was obvious early on that the current manufacturing capacity of vaccine developers could never meet the global need. If one had started with a 70 per cent target, increasing manufacturing capacity in different regions of the world would have been the top priority. "Then you would immediately have focused on technology transfer and waiving patents. That is where the strategy would have started."
The African Union's Special Envoy on COVID19 Strive Masiyiwa has described the international covid response as a "deliberate global architecture of unfairness." In an angry exchange with the Chair of Gavi José Manuel Barroso, organised by the Milken Institute last month, Masiyiwa said Africa was misled by COVAX to believe that doses would be made available. "COVAX was not supposed to purchase from one supplier in India and tell us in June - sorry there's a problem in India. Who does the risk analysis of this stuff?"
Barroso's response was defensive: "I don't think the solution is to attack the only institution that's trying to solve these issues. [Gavi is] doing [its] best to come to a solution. I don't think it's fair to put the blame on them."
At last week's WHO briefing, however, the Managing Director of COVAX Aurelia Nguyen had a different tone. "We are not happy with the progress," she said.
"COVAX was set up to avoid mistakes of past pandemics and make sure every country has access to vaccines, not just a select few. The model we have built for equitable distribution has delivered 25 million doses to 44 countries across the continent … We are not happy with the circumstances that led last year to most of the early global supply in vaccines being snapped up by wealthy countries before COVAX had received the money to secure its own vaccine supplies."
Nguyen noted that COVAX has been aggressively pursuing a strategy of portfolio diversification. It now consists of nine vaccines and vaccine candidates with legally binding contracts in place for 2.8 billion doses, and commitments for a further 1.3 billion. Deliveries will start to pick up in September, she said. Gavi predicts that Africa's share of COVAX vaccines will reach 500 million by the end of the year.
A strategic review of the Access to COVID19 Tools Accelerator (ACT-A), of which COVAX is a key part, has been commissioned by the G7 countries. COVAX is in fact the only part of ACT-A that is fully funded. Other key parts of the pandemic response – dealing with medical oxygen, personal protective equipment, treatments, and tests – lack USD 17 billion in financing for this year. With little testing, low vaccination rates and severe oxygen shortages in many countries, G7 countries want to know what they have got for their money before considering whether to finance ACT-A's 2022 needs which are likely to cost about USD 33 billion.
The mandate of the review is highly circumscribed. At last week's meeting of the ACT-A Facilitation Council on July 6, the UN's Special Envoy on COVID19, former Swedish Prime Minister Carl Bildt, said the purpose of the review is "not to look at the overall thing, because we are in fact in the middle of a war, but to adjust things as necessary, to see what could be made better ... next year."
Kyobutungi objects to this approach. She says the moment requires a deeper questioning of the fundamental model of COVAX and ACT-A. "I think it would be a huge mistake if [this review] just tinkers on the edges. The danger for COVAX is that Africa abandons it and says, this is not working for us, and moves on," she says.
At a recent seminar hosted by the Global Health Decolonization Movement in Africa, Kyobutungi reflected on the ways in which power imbalances are manifested when institutions in the global North approach African organisations about contributing to research that they have not participated in conceptualising. These are not partnerships, she says, they are consultancies. "Because partnerships have to do with [shared] intellectual property. They have to do with intellectual input and intellectual conceptualisation in whatever is to be done," she said.
She says to Development Today that COVAX is part of the same pattern. It was designed without African and other LMIC intellectual input: "COVAX should be decolonised - its underlying premise, its leadership, the blatant undermining of the initiative by rich countries, its [lack of] impact … and the begging stance it has left countries, without vaccine manufacturing."
With debates raging on decolonising global health and movements for racial justice, Kyobutungi says the pandemic was a missed opportunity. "It is a moment when everyone has to ask themselves: Who is at the table making decisions for who? Who is at the table developing solutions for who? Are these the right people?"
A few days ago, the world passed another grim covid milestone: 4 million deaths. Though a daunting figure, Kyobutungi does not believe that the number of deaths will have much effect how rich countries think about these issues; millions of people die every year from treatable diseases.
"I think the tipping point will be how the Delta variant pans out," she says. "When the rich countries wake up and say, oh my God, we have vaccinated 60 per cent of our population and it is still not helping. And maybe after Delta there will be a variant that is worse – as WHO has been saying all along. Then finally people will say, okay, we are just putting out fires, but they keep starting elsewhere. The rich countries need to experience it and realise that their current approach is pointless."
Subscribe to Development Today
_________________________________________
Read highlights of Development Today's coverage of COVID19:
April 14, 2021 - UK buys 500,000 Pfizer vaccine doses from COVAX for domestic use
March 26, 2021 - EU and Norway seek global hub for sharing covid vaccines, but legal obstacles remain
March 15, 2021 - Global Health Ambassador explains why Norway turned down offer to buy 700,000 doses of vaccine
February 10, 2021 - Charities warn of growing medical oxygen emergency while donors 'sit on their hands'
January 26, 2021 - Norway and UK block consensus in OECD on reporting COVID19 vaccine research grants as aid
December 14, 2020 - Legal experts question 'wall of secrecy' around CEPI grants to vaccine developers
December 7, 2021 - Dispute in OECD over coronavirus vaccine grants: how much can be reported as aid?
November 20, 2020 - Interview: Peter Sands. On the origins of the COVID19 global response and what needs to be done now
November 13, 2020 - Low-income countries are losing the race for coronavirus vaccine
October 30, 2020 - Norway criticised for siding with drug companies in conflict over COVID19 patents
September 16, 2020 - Norway's global health envoy: rich countries must expand ODA and find win-win solutions to defeat COVID19
September 11, 2020 - UN chief warns against using ODA to fund coronavirus vaccine for poor countries
June 16, 2020 - Billion-dollar pneumonia vaccine fund closes after first non-Western firm wins tender. Donors transfer remaining money to COVID19

April 8, 2020 - US think tanks push ahead on proposed health security fund. 'Last thing health ministers need,' says Global Fund chief
Subscribe to Development Today