The only way out of the pandemic is equitable distribution of vaccines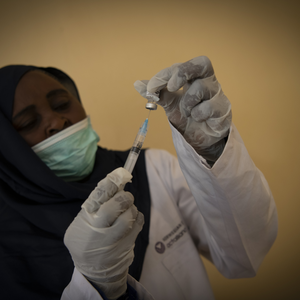 "We have to be smarter than the virus." This is the message of the Director General of the World Health Organization (WHO) Dr Tedros Adhanom Ghebreyesus, repeated at his daily press conferences. In record time, vaccines have been developed, tested, and produced. Scientific advances in vaccine research have brought hope that humankind will indeed be able to outsmart the virus.
But if we look closer at vaccine distribution, a pattern of gross inequality emerges. More than 436 million Covid-19 vaccine doses have been administered, a vast majority of them in the world's wealthiest nations.
Health worker Sawakin Ahmed preparing a pneumococcal vaccine against at Norwegian Church Aid's clinic in Bilel camp for the internally displaced in Darfur. COVID-19 vaccine has not yet arrived at the camp. Photo: Håvard Bjelland / NCA
COVAX, the international mechanism for rapid, fair and equitable access to vaccines, established by WHO and the global vaccine alliance Gavi last year, has to date shipped around 30 million doses to 54 participating countries. Most of these countries have weak health systems and poor infrastructure, and it will take time before we can count the number of health workers and vulnerable people actually vaccinated. This reflects the highly unequal world we live in, where multilateral mechanisms that could enable fair distribution have not been at the forefront of vaccine distribution. COVAX is underfunded. It has just launched an investment call for USD 2 billion to scale up the delivery of vaccines to the 92 participating countries.
Dr Tedros says failing to address the inequity constitutes a "moral failure." The unequal distribution of vaccines is indeed both immoral and goes against the development principles we are committed to. It is also unwise from an epidemiological point of view. If we are going to curb the pandemic and outsmart the virus, transmission must stop spreading everywhere. As long as pockets of virus remain, the risk of mutations threatens everyone. All countries need to be included in an urgent vaccination drive.
In a survey commissioned by Norwegian Church Aid, over 80 per cent of people in Norway, Sweden and Denmark say they do not think it is fair that rich countries pay their way to the front of the vaccine queue. Considering the heavy toll the pandemic has had on our own countries - on the elderly, on the metal health of young people, and on the economy and people's livelihoods - the result of the survey is a strong statement in favour of justice and solidarity. Interestingly, the percentage is highest among young people. This data underpins our argument to politicians that most Norwegian, Swedish, and Danish people support multilateral solutions to the pandemic and equitable vaccine distribution. We know that no-one is safe until everyone is safe. Despite the sense of slow progress, the reality is that we are well on our way with vaccination in Scandinavian countries.
Sadly, instead of ensuring fair distribution of vaccines around the world, the global private-public partnership has resulted in a what some commentators have called "vaccine apartheid." Many of the same states collaborating with WHO in COVAX went directly to vaccine producers, made bilateral contracts, and consequently moved forward in the vaccine queue. Such hoarding of vaccines was never an option for poor countries. Very early on in the pandemic, the African Union was working hard to secure vaccines for all member states. There have, however, been a few African countries like Tanzania who have denied the threat of Covid-19. In some of the countries we work in, we can hear people on the street referring to the "white man's vaccine." This exemplifies the sense of distrust in global multilateral health preparedness and response and the ability to be fair and influence decisions for the benefit of all.
So, what is the way forward to fight the pandemic?
Firstly, we welcome Norway's pledge to transfer 700,000 vaccine doses to the COVAX facility for countries that have barely started vaccination, and we urge Sweden and Denmark to do the same.
To achieve equitable access to vaccines, Norway, Sweden and Denmark need to advocate for states to commit their vaccine surplus to COVAX and re-route them urgently to countries where vaccination has barely started. According to ONE Foundation in the United Kingdom, rich countries have bought 1.2 billion more doses than they need for their populations. This amount is enough to vaccinate the entire African continent with the first jab. Some of these excess vaccines need re-routing.
Secondly, global vaccine producers have done a tremendous job starting up production. However, there is a lack of transparency in contracts, pricing, and transfer of technology to countries in the South. Norway, Sweden, and Denmark have provided large sums of funding to COVAX for vaccine research and development, and pre-purchased vaccines many times our own needs, even before they were approved. As a condition for such investments, Norway, Sweden, and Denmark need to work for more transparency in contracts with the private sector. The vaccine producers claim that the bottleneck is in the supply chains and at the production sites. However, civil society organisations in South Africa, including the South African Council of Churches, do not trust this explanation. They argue that states that pay the most will have vaccines first and that COVAX as a multilateral mechanism has fallen behind in the queue.
Future pandemic preparedness must have built-in mechanisms that ensure a response based on epidemiological data and analysis, and allow global health actors to prevent, diagnose, and treat where efforts are most needed for the benefit of all.
Thirdly, Norway, Sweden and Denmark must play a role in ensuring that no groups are left behind. All states receiving vaccines have prepared national vaccination plans. Still, there are fears that vulnerable groups will be forgotten, ignored and left out of these programmes. The COVAX facility was designed to have a humanitarian buffer which would allocate 5 per cent of the 2 billion vaccines to be distributed by the end of the year. As of the first quarter of 2021, however, no doses have gone to the humanitarian buffer. We fear that the inequitable access to vaccines will hit vulnerable groups like refugees and people living in war zones the hardest. Therefore, we ask the governments of Norway, Sweden and Denmark to speak out in support of prioritising the allocation of vaccines to COVAX, and ensuring that a fairer share can be transferred to poorer countries and groups that are being left behind.
This is not over before it is over everywhere.
____________________________________________
Birgitte Qvist-Sørensen, Secretary General of DanChurchAid
Dagfinn Høybråten, Secretary General of Norwegian Church Aid
Erik Lysén, Director of Act Church of Sweden